Minule jsem vám povídala o mých prvních dnech v Čechách spolu s outfitem ještě z Londýna, tak už bylo načase vám nafotit něco už tady u nás v domovině. Už v Anglii jsme si psaly s Terkou Marešovou a už jsme se konečně sešly a zde máte výsledné fotky (a samozřejmě nějaké to povídáníčko) !
Last outfit post was shot in London but I wrote you about my first days back in Czech so it's about time to post you finally something shot in here, in Prague for today! We finally met with Terka thought, as we'd been in contact since I was in England! So what do you about this simple minimalistic look? In short, monochrome is my thing, my love, my addiction. However, do not worry! My outfit will definitely be also full of more trends of this season! For example you can be already awaiting my festival looks as I am going to Rock for People festival on Friday! And then definitely more because I'm still "in little suitcase" traveling between Liberec and Prague and last time also Bratislava, as you could've already seen on my Instagram, where I'm always posting pictures of my outfits and "right-now-happening" ones! Have a wonderful first days of new month! Uh oh! And I almost forgot – in the last picture you can see my new eyeglasses, which I have from Easy Optic and I absolutely love them, as well as Prague where I've been so often recently, that I'm at home not in Liberec or Prague but on the bus!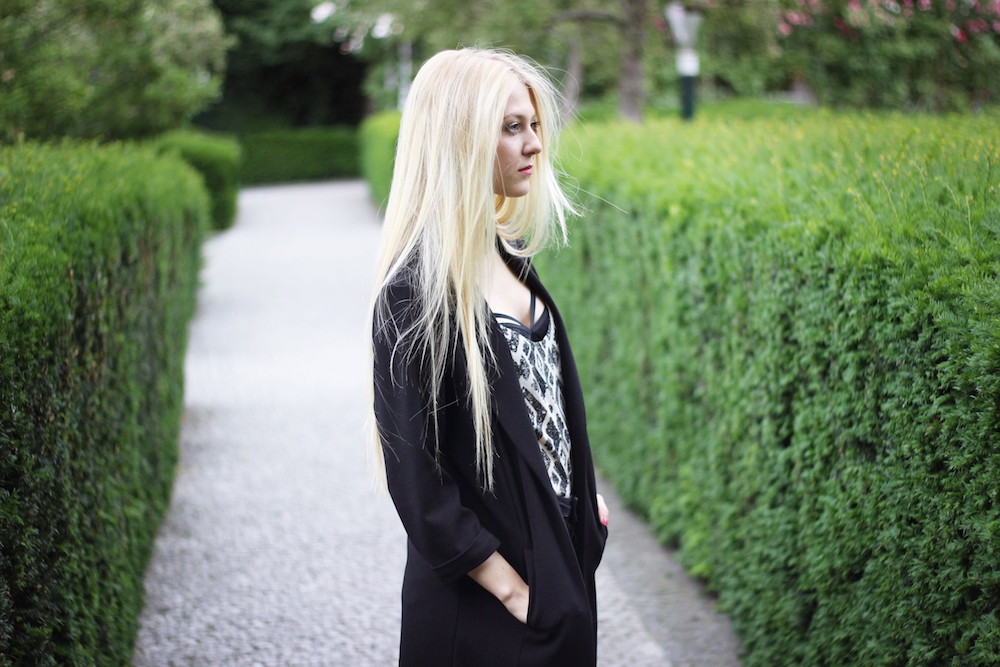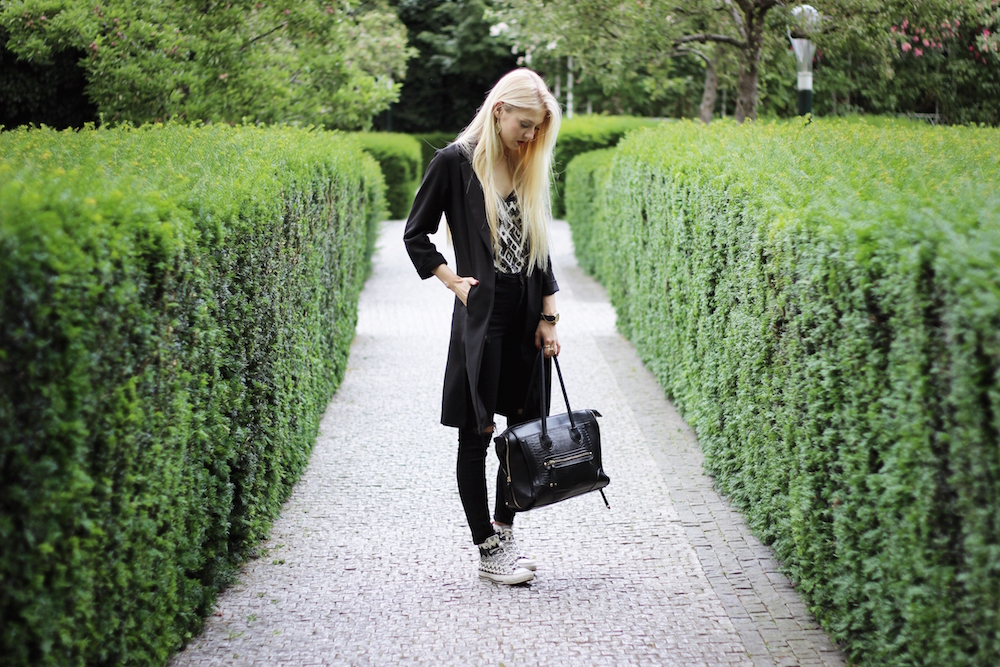 I'm wearing:
Coat, bracelets: Primark | tanktop: NewYorker | pants: Topshop | bag: ALDO | Converse | bra: Urban Outfitters | EyeGlasses: 
Easy Optic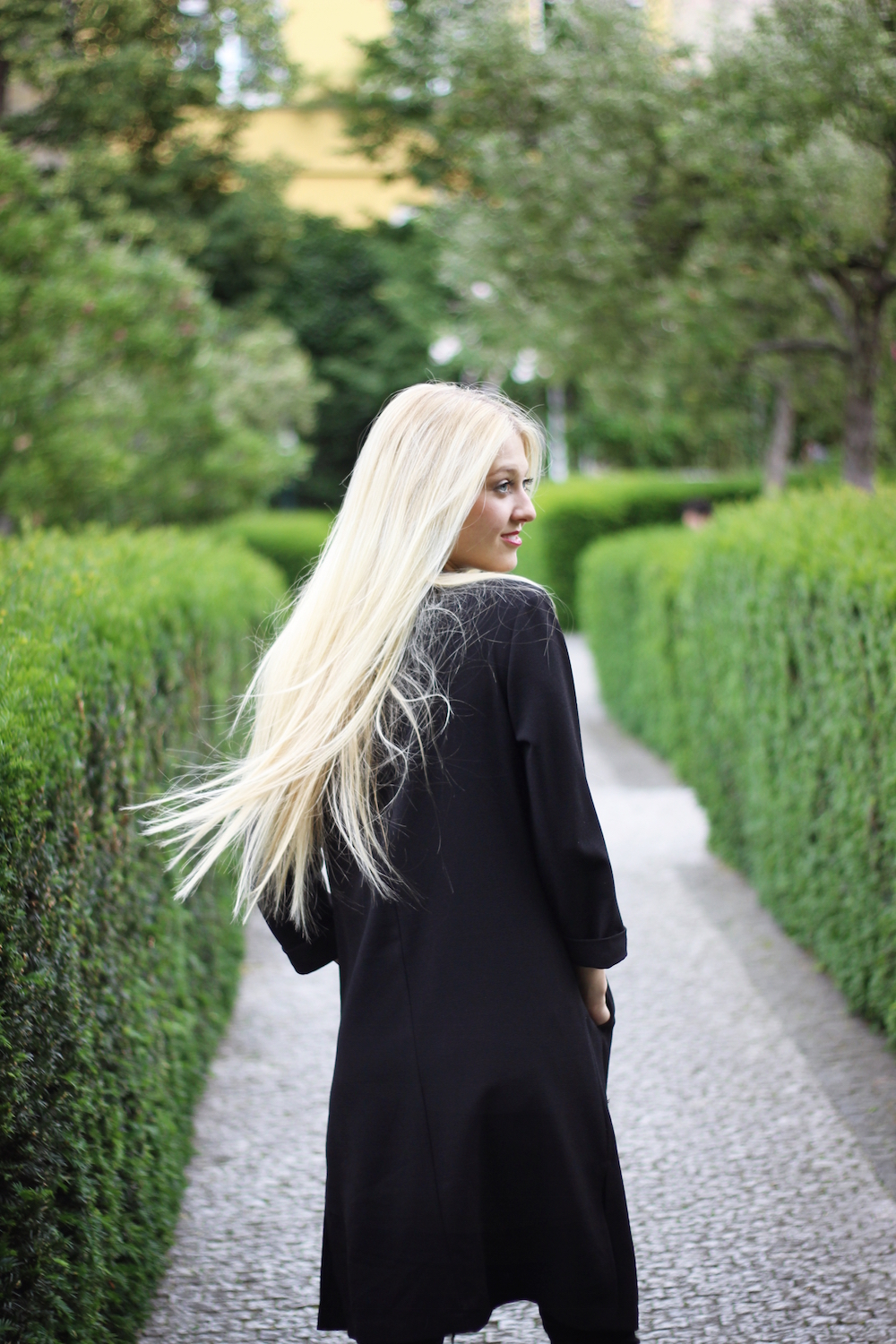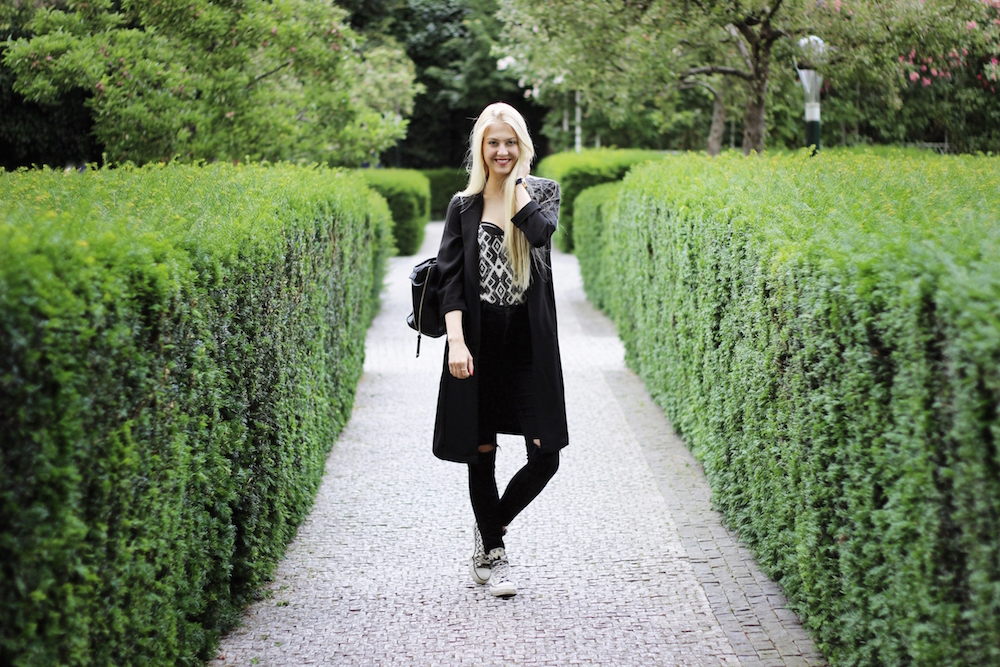 Tohle je jeden z mých "cestovatelských" outfitů. Od příjezdu totiž pendluju mezi Libercem a Prahou. Vůbec mi to ale nevadí a vždy se do Prahy těším, ptotože je to tu zkrátka úplné jiné než  v ostatních městech a vždy mi to tu otevírá oři a a motivuj jíti dále.
Kvůli životu s kufříkem je u mě pohodlnost na prvním místě. Já bych opravdu ráda nosila krásné podpatky a být prudce elegantní. Ještě asi nenastal ten správný čas a to spolu i s uklidněnějším životním stylem! V tomto looku bych ráda zdůraznila dlouhý blazer! Musím vám všem napsat, ať co nejdříve běžíte do Primarku a pořídíte si to! Pro mě to byl kauf Anglie a ráno ho vždy jako první zvolím a pak až podle něj a nálad na ostatní kusy! Jak se vám líbí, máte rády takhle dlouhé strihy?
A kdo četl minulý článek? Vy můžete zkusit uhádnout, jaké budou další outfity? V pátek odjíždím na Rock for People a mají být ohromné pařáky! ANO – festivalové outfity se vám s Julií pokusíme nafotit! Po dlouhé době hlavně budu opět blíž mému oblíbenému California style, takže ze mě bude jeden velký blonďatý happy-hippie!
Nechystá se někdo z vás do Plzně na Rock for People?