Po návratu jsem si myslela, že než bude nějaká akce od Fashion TV, tak to nějakou dobu potrvá, ale nakonec toho doposud bylo víc než jsem čekala. Dnes mám pro vás první post z FTV natáčení. A to jak s vlogem, tak i s hotovou reportáží.
Musím říct, že Reviderm kosmetika je opravdu příjemná a také příjemně voní! Hlavně je to léčivé a vyvinuté dermatologem, takže je opravdu kvalitní a přizpůsobitelná každé pleti. Sama to teď chci ozkoušet, protože pořád hledám svou top kosmetiku, jak na líčení, tak na péči.
Reviderm products are so nice to wear on the skin! You can just feel the difference in the quality. It smells so good as well!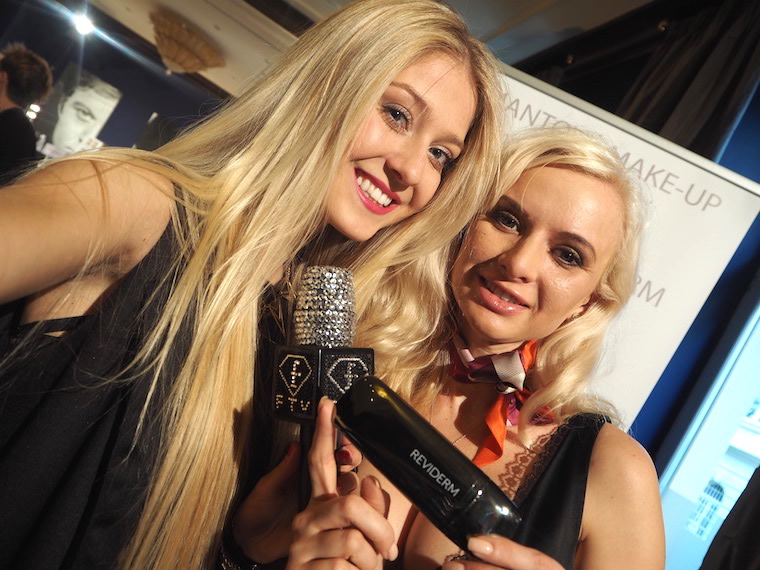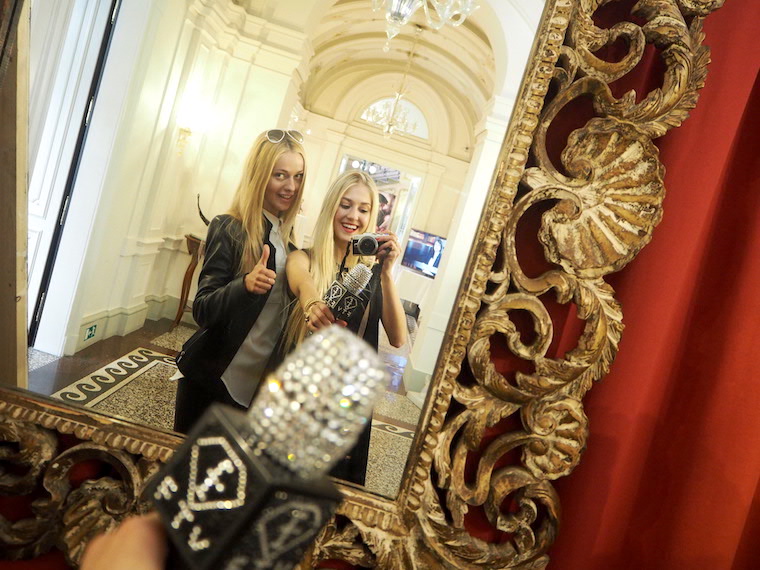 Zde máte výslednou reportáž, která běží na Fashion TV 🙂
This is the final reportage which is up on Fashion TV.
Jednou z vizážistek byla dokonce dcera Karla Gotta. Ten přišel na akci osobně a během dne ho maloval umělec takovou speciální technikou – podržte se – vzhůru nohama! Obraz vyšel nádherně a během večera tam byl vystavený! Celkově ty prostory Le Palais Art Hotelu byly nádherné a stojí za zmínku! Všude bylo samozřejmě samé umění, ale navíc i designové prvky, které interiéru dodávají unikátní atmosféru.
Les Palais Art Hotel was obviously full of art pieces and one was about to be done as a part of the program. Karel Gott was painted by an Spanish artist with special method – upside down! WOW!
Celý večer byl charitativní, a to na počest paní, která Slunce založila a pomáhá už mnoho let ostatním lidem. Mají hezký slogan, že slunce patří všem. Ta paní byla opravdu hrozně milá a bylo vidět, jak ji to naplňuje. Celý večer moderovala Lenka Vacvalová a vystoupilo několik zpěváků a zpěvaček a proběhla i přehlídka návrhářky Tauchmanové. Byl to moc hezký večer, kde byli lidé, aby podpořili Slunce a přišli z vlastní iniciativy, takže si umíte představit, že tam panovala přímo sluníčková atmosféra a já jsem ráda, že jsem tam díky Fashion TV mohla být taky a poznala se se všemi lidmi.
The day was finished with the Gala to support the Slunce Charity. The whole atmosphere of this event was so nice and friendly as everybody came based on their own initiative. There was also a fashion show of fashion designer Tauchmanová. I can't forget to mention the beautiful view you can see in the video, food and simply put – perfect day with perfect program and perfect people all around!