| in CZ and ENG |
Můj poslední outfit na Fashion Weeku jsem pojala naprosto jednoduše a elegantněji – ze dvou důvodů. Za prvé, večer totiž byla přehlídka Pietro Fillipi a za druhé, jsem si prostě chtěla vzít nové boty ze Zary. Fotky nejsou úplně nejostřejší, ale řekla jsem si, že vám je stejně ukážu. Ta "popřehlídková" noční atmosféra tam je totiž, snad, znát a večerní Příkopy mají také své kouzlo, jako celá noční Praha.
This last of my outfits I wore at MBPFW is simply simple. It's because of two reasons. First, there was Pietro Fillipi fashion show so I wanted to look at least a bit elegant according to their style. Secondly, I just wanted to wear my new ZARA high heels I've fallen in love recently. The pictures are not in great quality but I decided to show them as the atmosphere of the after fashion is visible there as well as the magic of night time in Prague.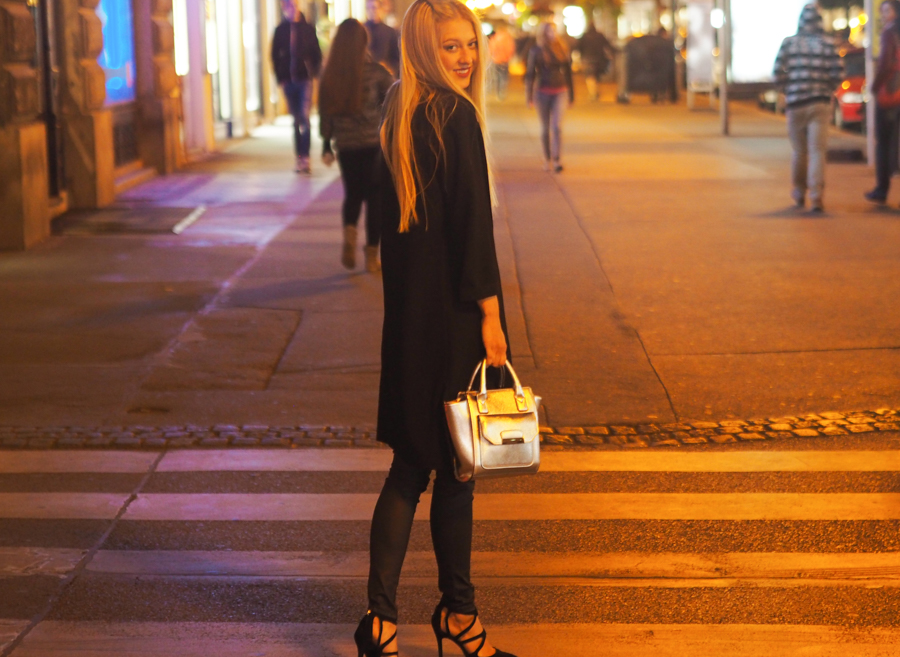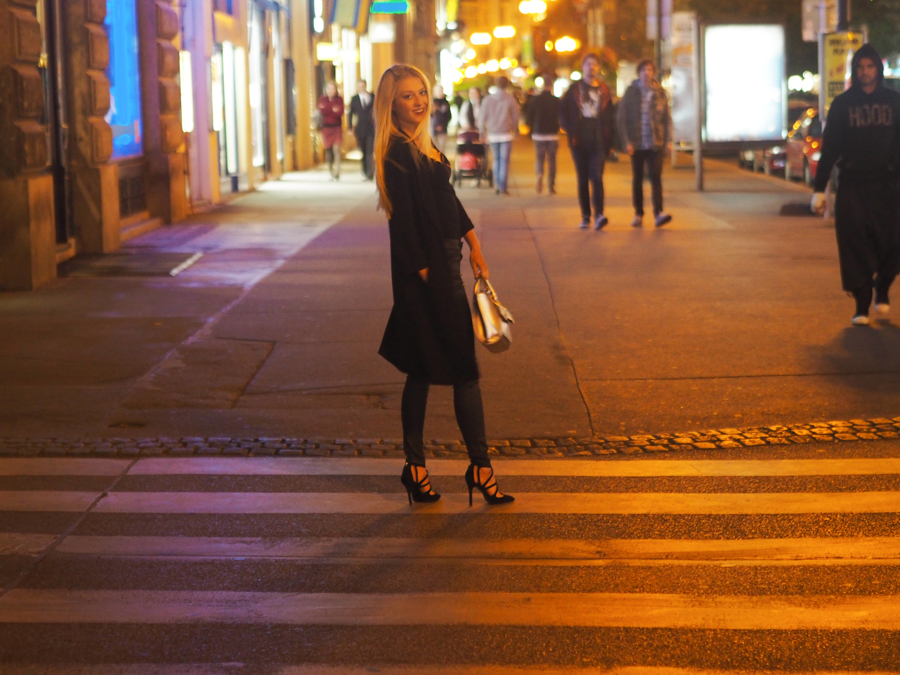 Tedy, volba padla na černou a ten den to byla "trefa do černého", alespoň co se mého gusta týče. Pro mě to je totiž poslední dobou oblíbená barva. Černá mi přijde elegantní, přizpůsobí se i ostatním stylům a zkrátka se s ní nikdy nic nezkazí. Ať chci být takhle all black na akci večer nebo jdu ven do města ve Vanskách, tak černou na mě teď můžete vidět docela často. Většinou ji ale nakombinuji s něčím světlejším nebo vzorovanějším a skončím tak v monochrome looku. Tohle je ale takový outfit allá "lady in black". Bez nápisu bez ničeho, jen s pár jednoduchými detaily. Zvolila jsem jen stříbrnou malou kabelku a zbytek je v černé.
So I chose all black look. Black's been my color number one past weeks. I like it because you look elegant in it but at the same time it fits all body types and fashion styles. You just never go wrong with black. Whether you go to an fancier event or just out with friends wearing your Vans slip-ons. I usually combine it with one piece in brighter color or pattern so I end up with monochrome look. However, this look is like "lady in black" inspired. I have no t-shirt with writing only a few simple details such as little silver bag.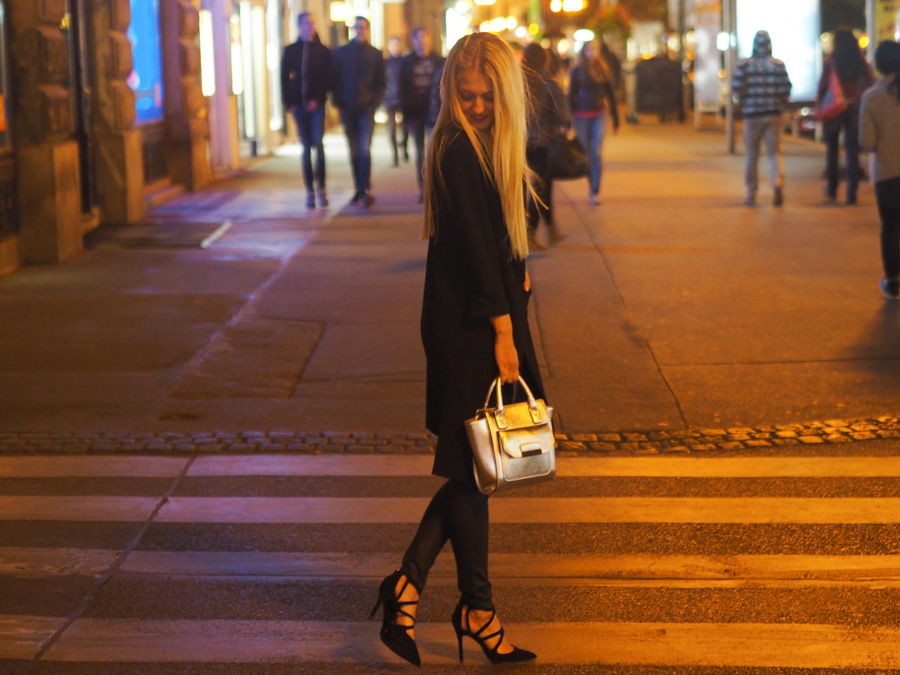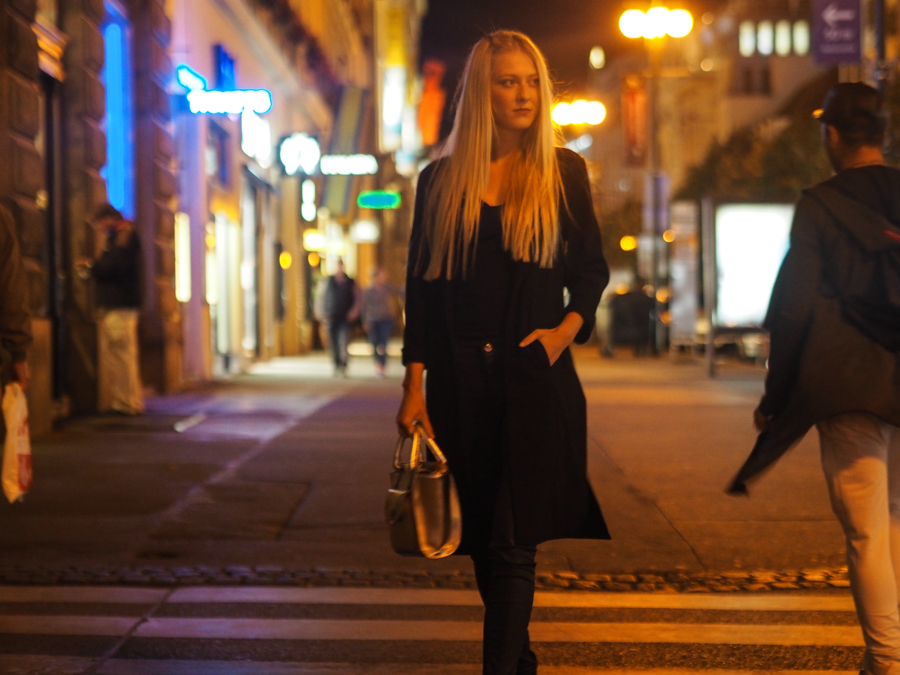 Není to ale "jen" černá. Když volíte všechny kousky v této barvě, tak se doporučuje kombinovat různé materiály, ať opravdu nevypadáte, jako když jdete někam smutnit. Proto jsem zvolila koženkové kalhoty z Manga, basic černé tílko z H&M a lehký lesklejší prodloužený blazer z Primarku. Nové boty na podpatku ze Zary jsou semišové a úžasně pohodlné. Zase tak často podpatky nenosím, protože se mi na nich nechce celý den lítat, ale v těchto bych to možná i riskla. Určitě vám doporučuji si je jít zkusit, protože díky těm páskům oživí právě takhle celý černý look a nemusíte řešit více detailů. Já k těm botám zvolila třeba jen podprsenku, která má takový střih, že pruhy vykukují, náznakem, z tílka a tak to ladí k páskům na botech. Dál tedy zmiňovanou kabelku z New Look. Pro mě černá neznamená smutnou barvu a jestli někomu ano, tak když nosíte zrovna černý outfit, tak se stačí čas od času usmát – to stopro pomáhá.When you choose all black look it's recommended to combine materials to not to look boring or like you're going to a funeral. That's what I did and combined leather pants, basic top and sleek long blazer. The statement piece is the pair of my new suede heels. You wouldn't believe how comfortable they are! I wanted them to be the most interesting detail of my outfit, hence I keep the rest simple. I just match my bra to the heels as both have similar bands and it's quite nice to let those of the bra uncover sometimes. Finally I want to say that black doesn't mean sad it's entirely on you how you will wear it but if you feel looking sad while wearing all black – just smile – it will help definitely!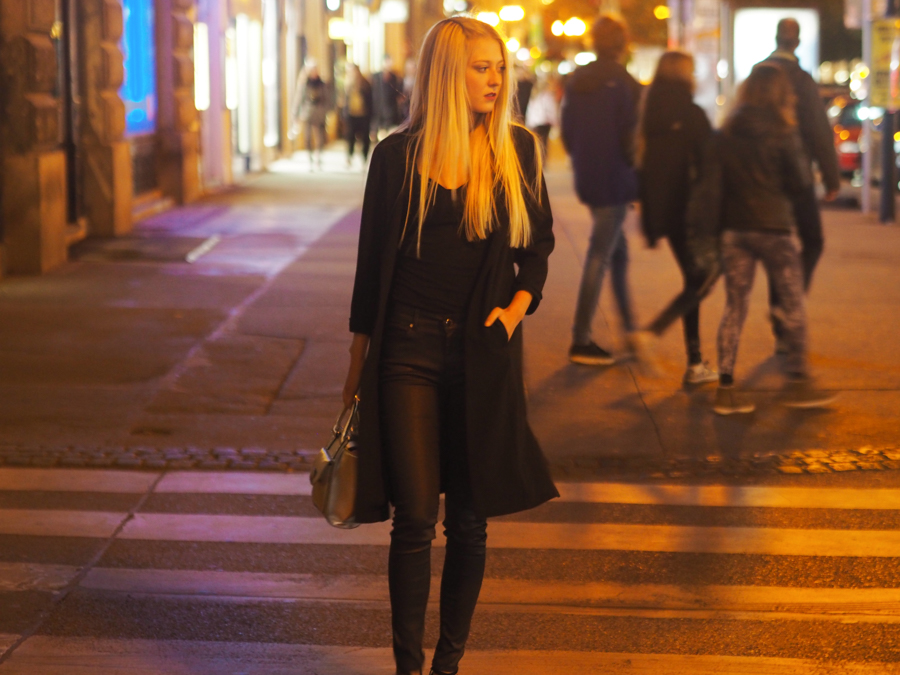 Jo a při focení mě parkrát málem přejelo auto a na pár fotkách vypadám jako Superman, takže o zábavu nouzi nebylo. A to je přeci hlavní…