|CZ and ENG |
Konečně mám pro vás opět nějaký ten outfit! Teď když nikam necestuji a nebudu mít většinu práce s přípravou travel postů mi ten čas, snad, zbyde na fashion! Máte radost? Já ji mám, ale hlavně díky jedné novince!
Finally I've got to post new outfit for you! When I'm not traveling anywhere and don't concentrate my time on travel posts I can use it on fashion! Are you happy, though? I am, however, especially thanks to one really great new information!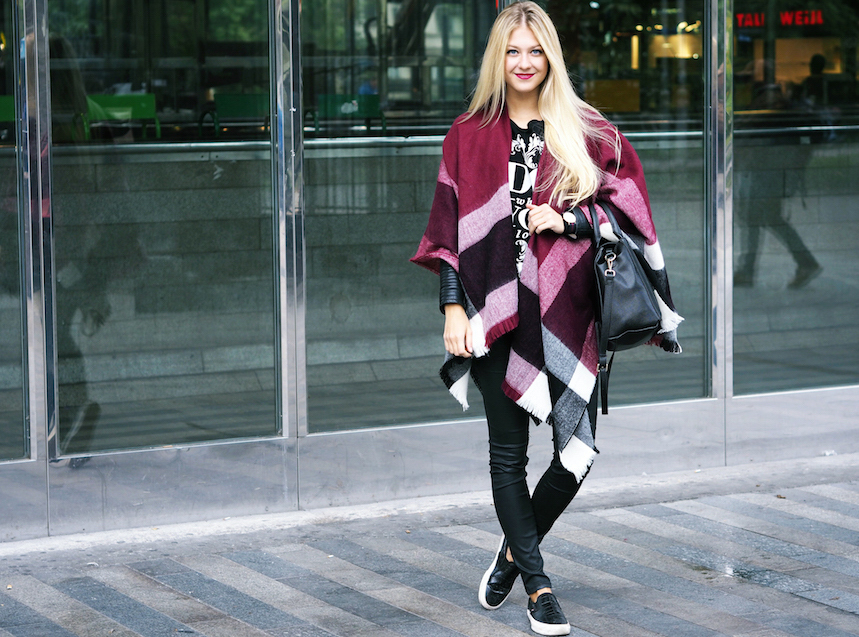 Poncho: F&F | Pants:
Mango
| Slip-on: Vans from 
Footshop
 | Sweater: Reserved | Bag: ALDO |  Leather jacket: River Island
pictures by dearest Terez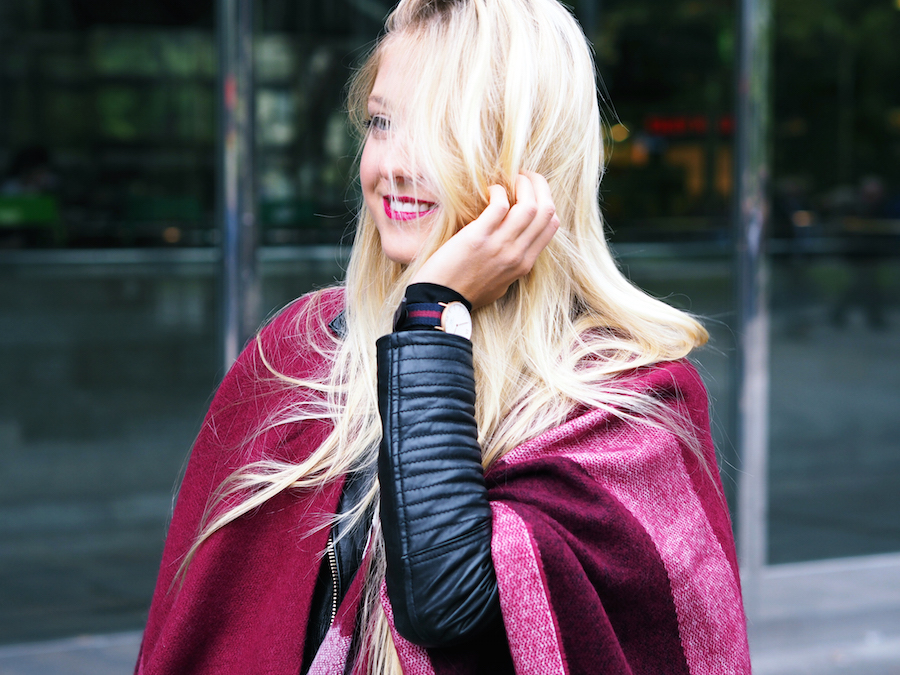 Ta novinka je ta, že jste mě opět nominovali do Blogerky roku! Když nominace probíhaly, tak jsem to se o tom nikde nezmiňovala, protože jsem si říkala, že to záleží na vás a tak nějak jsem si myslela, že letos jsou moje šance mizivé. Takže si umíte představit, jakou mi nominace udělala radost! Minulý rok jsem se díky vám stala Objevem roku a letos jste mě někdo z vás poslali do Life kategorie! K nápisu na mikině "do what you love" bych dodala "udělá tě to šťastným a ostatní to poznají". Teď probíhá hlasování do TOP 10! Takže kdyste mě chtěli podpořit a pomoci mi posunout blog, a vše kolem něj výš, tak budu ráda za každý hlas. Hlasování probíhá
zde
. Skvělých blogerek je plno, tak se těším, kdo si půjde na stage pro ocenění! Jaké máte tipy?
What's the information? I was nominated to the Blogger of the Year contest again by somebody among you all! Thank you very much! After I was so lucky and won the Newcomer of the Year tittle I was definitely sure I've got no chance to be nominated again this year as there're so many great blogger in Czech! So you can definitely imagine how happy I am now! How it's written on the swear "do what you love" and I'd add to it " it'll make you happy then and others will recognize it". Now you can vote and send your favorite blogger to TOP10 in each category. I am in "Life" category so if you want to help me to promote my blog among those honored ones I'd be happy as small Natali on the Xmas Day! You can vote – here.  I'm really excited who's going to go up on the stage for the prize! Who're your tips?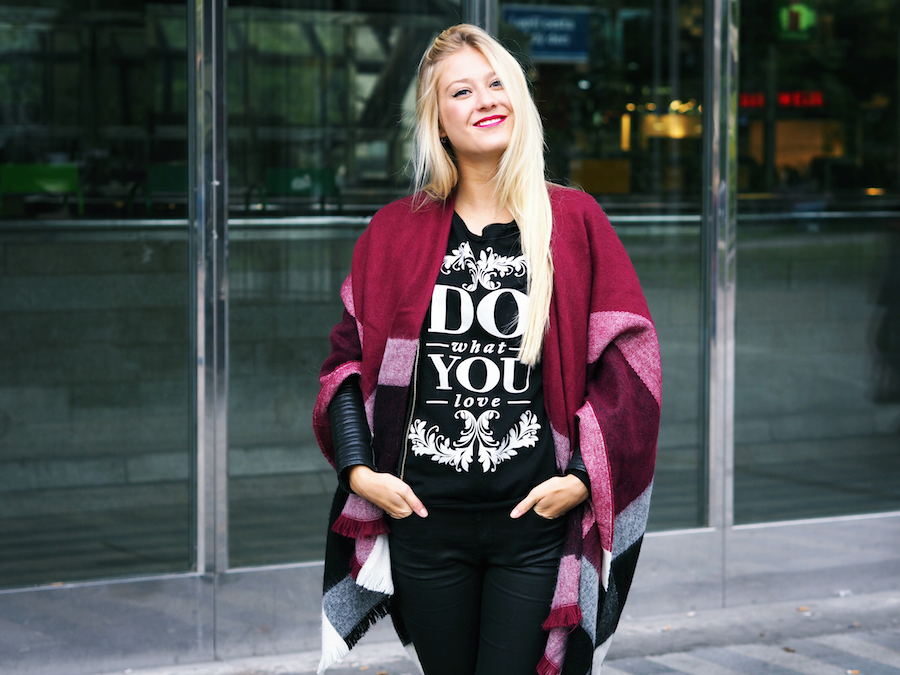 Tento outfit je můj oblíbený hned kvůli několika důvodům. Jeden z nich je kombinace barev! Naprosto jsem propadla bordó odstínům. Na podzimní, zemité a tlumené tóny ještě chvilku čekám a užívám si trochu výraznějších variant. Tohle je teď pro mě barva číslo jedna. Stejně tak, jako je pončo trendem pondzimu. Jak ho doporučuji nosit já?
This outfit is my favourite because of a plenty of reason. The main one is the combination of colors! I can't have enough of shades of bordeaux red! For me it's still time for those earthy neutrals. Therefore I really do enjoy bolder colors until their time'll come. As well as I enjoy to wear ponchos, one of the trend of this seasons – until the cold-cold weather is still away.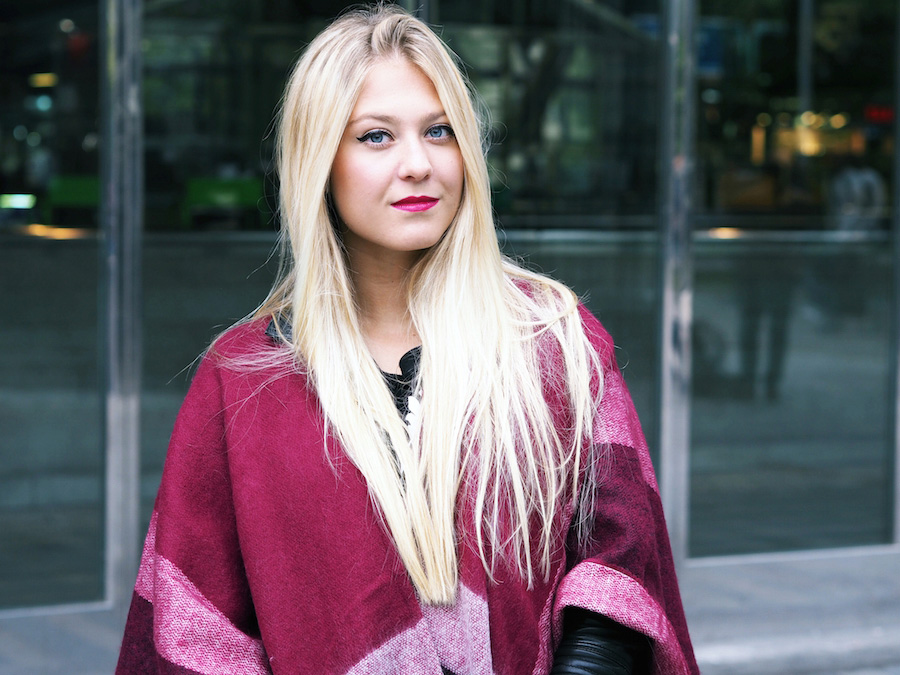 Pončo by se mělo kombinovat s kousky upnutějšími na tělo, jelikož opticky zvětšuje a s nějakými hodně volnými boyfriendy a oversized mikinou a ještě šálou můžeme vypadat jak "Michelinky". Určitě doporučuji sáhnout po upnutých kalhotech a dokud není úplná zima, tak i sukni či kraťasech. Jde o to, abyste neztratily svou ženskost pod tou "dekou". Mně se hrozně líbí, když má někdo k ponču podpatky, ale kdo v tom má po centru běhat, že? Já jsem teda zvolila slipony, protože vykukuje alespoň ten kotník. Samozřejmě také kvůli tomu, že je nosím snad všude, protože se hodí snad ke všemu! Sporty-chic si mě získává! Hra se sportovním style a koženkovým, lesklým materiálem mě baví!
I recommend combining poncho with tight pieces as slim jeans, trousers or even skirt until it's not that cold outside. Just imagine if you wore poncho, boyfriend pants, oversized sweater and a scarf? If you don't want to look like the Michelin character, then try to avoid it. But I'm sure you already know it. I personally love to see the combo of poncho and high heels but for me it's not possible to wear it in the city centre but hopefully one day I will. That's why I've been falling in love with sporty-chic. This pair of faux crocodile leather Vans slip-on is just perfect with leather pants and elegant bag to add femininity to your look.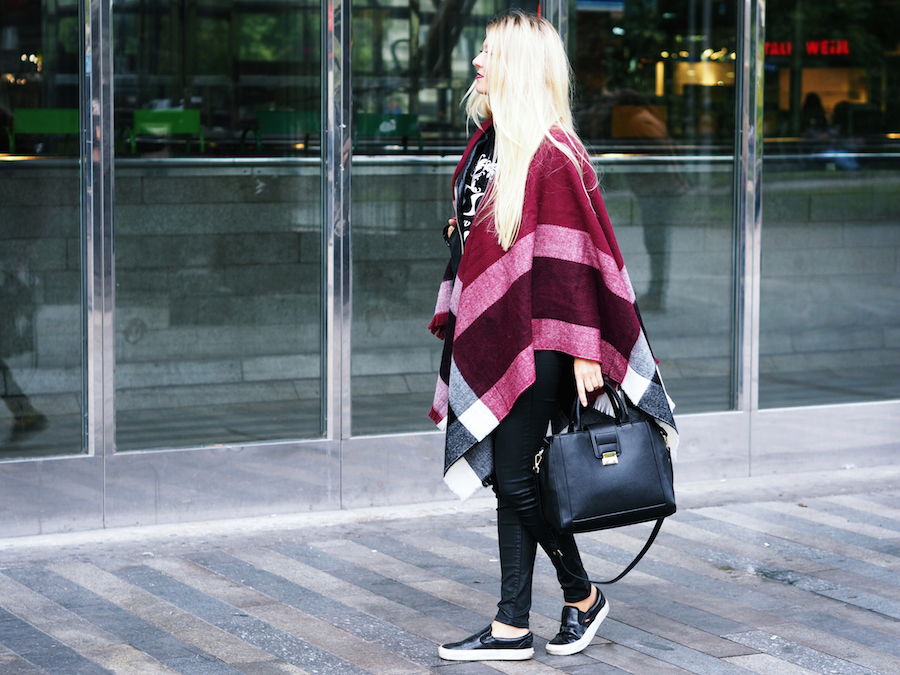 Pončo se tedy hodí jak k elegantnějšímu stylu, tak sportovnějšímu, který jsem v tomto outfitu zvolila já. Je také jasným důkazem toho, že jen a čase ovládnout vrstvení než se úplně schováme do kabátů. Na jistotu půjdete, když si pod pončo oblečete koženou bundu a nějakou tu mikinu. Já jsem třeba třeba nechala pončo být nejvýraznějším kouskem looku, tak jsem zbytek ladila do černé a důraz jsem kladla už jen na nápis na mikině, kde jsou i vzory, které celý outfit zjemní.
So, you can wear poncho in elegant or sporty style. It's also a prove that the time for mastering layering has come! My tip is to wear leather jacket underneath the poncho and to not have it that sporty, just add some writing on your sweater with elegant patterns as well.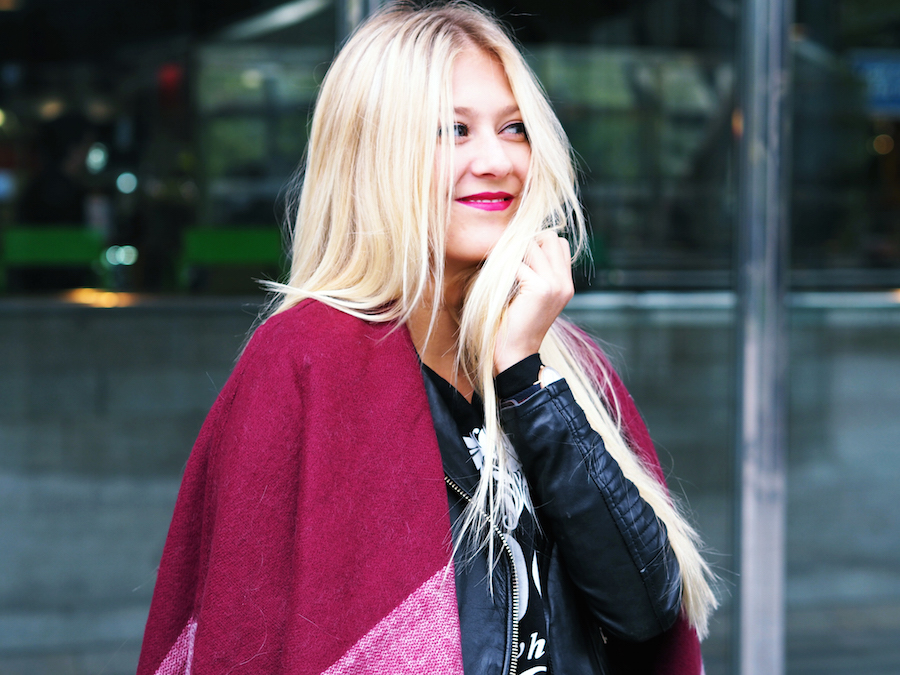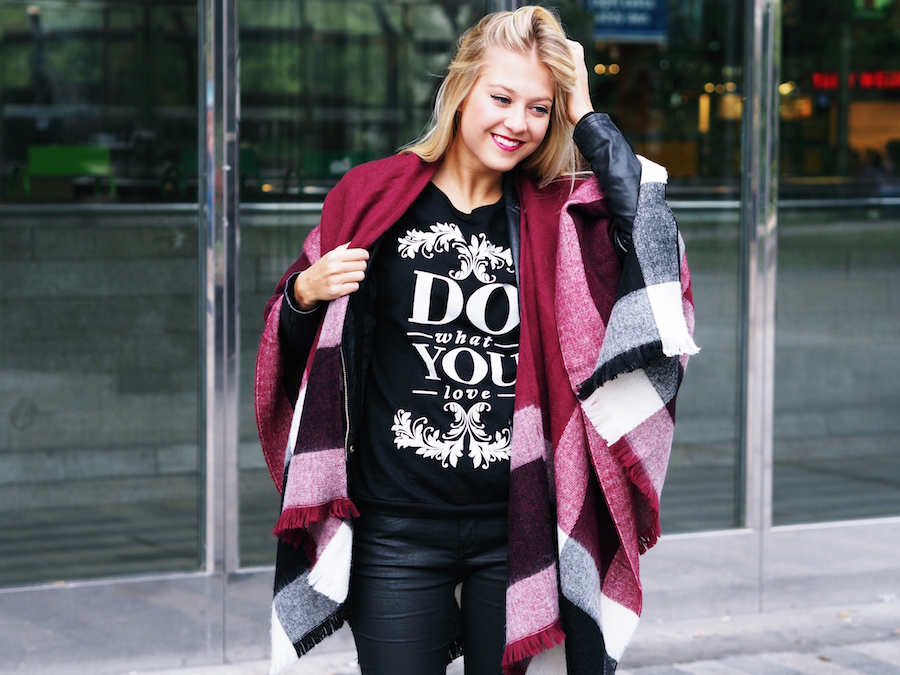 Pokud máte rádi ponča nebo si ho zvažujete na podzim pořídit, tak jen upozorňuji, že to není kousek, který by vás výrazně zahřál. To jedině pokud se do něj opravdu zabalíte a nebo si z něj uděláte šálu. A tak ho většinou nosím já – zabalená, jako v dece. Je to takový univerzální kousek. Já si k němu třeba asi koupím ještě nějakou sponu, aby se mi pořád neotvíralo a nemělo tendenci padat z ramen.
Co vy a ponča?
If you want to buy a poncho I'd like to remind you it not a piece that would warm you as a snowboard   jacket. It just when you just wrap into it or wear it as a scarf – that's how do I wear to feel warm – just like a blanket all around me. Oh and I think I will buy a clip or something to make it stay at one place and to fall down over my shoulder all the time. 
Do you like ponchos?